Curly Hair Control: Men's Edition
Curly haired gentleman and or ladies with a curly haired gentleman, pay attention. Getting those luscious locks under control can be a huge burden! If you don't have curly hair you just don't get it, getting our hair together is a feat! Luckily, I'm here to lend a helping hand. Check out these 3 products I use to help keep my curly hair happy, healthy, AND under control.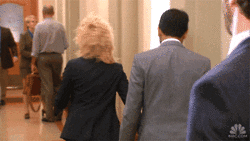 Source via Giphy
1. Bumble and Bumble Curl Conscious Smoothing Shampoo 
Everyone I know (including me) swears by this product. A little pricey, but completely worth it. Guys, don't be deterred by its unisex utilization, its smell is not too feminine not too masculine, but still enticing. It will keep your hair curly without frizz and keep it manageable! An essential addition to your haircare routine. Check it out here!
2. TIGI Bed Head B For Men Leave-in Conditioner
A great leave in conditioner for curly haired men. Spray it on after your shower to keep frizz out of your hair. Plus, this makes it way easier to style your hair. Lasts all day, scent is masculine. A great way to protect your curly haired head and scalp! Check it out here!
My go to styling product. It makes hair more voluminous without crusty or oily residue that curly hair products notoriously leave behind. I find it holds my hair perfectly without reducing the curliness or weighing me down. 
Side note: I sometimes use this to style my hair even when I don't have time to use all the products above. Easy way to quickly style your hair and run if you are late! Check it out here!
What is your favorite product to control your curly hair? Share it with us in the comments below!